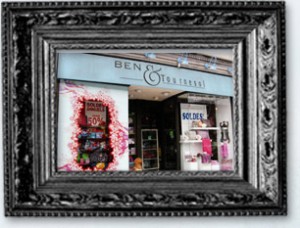 Founded in 1993, entrepreneur John opened his Westmount emporium after struggling to locate the perfect spot in Montreal to find just the right gift. With history and whimsy in mind, John named his store Ben & Tournesol. Ben, after his father and tournesol or sunflower, after John's favorite fleur. He filled his store with carefully selected and unique products to offer his clients.
One step inside Ben & Tournesol's mosaic floors and you will be greeted by two large, beautiful and friendly Leonbergers. Your dogs are also welcome! Let our expansive array of home fragrances indulge your senses while you browse our boutique.
You will surely be smitten with our eclectic mix of products, from Hermes china to Designers Guild bedding, from Ralph Lauren home accessories and from iconic Baccarat crystal to playful Jonathan Adler vases. No matter what your heart desires, you will find it at Ben & Tournesol.
With years of experience, we provide our customers with the added service of bridal and gift registries, both here and at our kitchen store Wilfrid & Adrienne. Call us (514.481.5050) to arrange an appointment with one of our knowledgeable staff members for a personalized walk-through of our store, as you create your perfect wish list for your perfect day.
We will be happy to have all your gifts wrapped and delivered to your door, at your convenience. We strive to take the stress out of the process and give you peace of mind by providing you with a seamless experience.
For years Ben & Tournesol has brought you the best of Europe, long time American favorites, homegrown treasures, and impeccable customer service. We are now pleased to welcome you to our online experience.